What Is SuperPerf?
SuperPerf is a new type of perforated metal made using an advanced perforating technology. This new process allows Accurate Perforating to create very tiny holes in stainless steel — holes that are smaller than the material thickness — without compromising quality or performance. SuperPerf stainless steel is available in most popular patterns with a 60-degree staggered orientation. This is a super high-ratio perforated metal that no other North American perforator can do!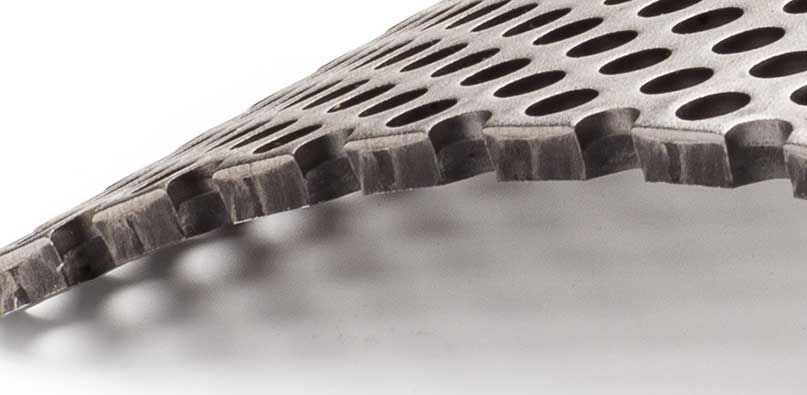 The Impossible Made Possible
Stainless steel perforated with holes smaller than the overall thickness of the material has been unavailable … until now.
Before: The rule of thumb was always that stainless steel perforations had to be larger than the thickness of the metal to obtain the ultimate quality and functionality.
Now: SuperPerf is a conventional perforated stainless steel with holes the same size as, or even smaller, than the material thickness.
Contact us for a list of SuperPerf standard materials and patterns. Custom patterns and sizes are available, too.
---
Features
Compared to traditional perforated metals, SuperPerf offers:
High-pressure resistance
Greater durability
Enhanced welding and fabrication *
Significant cost savings **
* Compared to fabrication processes that produce high heat like laser and plasma cutting.
** Versus conventional methods like drilling, punching, water jetting and laser cutting.
---
Benefits
SuperPerf raises your product performance and your business profitability:
Better Products. SuperPerf provides better-performing, longer-lasting products.
Increased Customer Satisfaction. Increased product longevity results in reduced maintenance and a more sustainable, eco-friendly product for your customers.
Greater Safety. We can engineer more durable products that withstand strong forces and high pressure.
Faster Lead Times. SuperPerf is readily available, drastically reducing your lead times.
Improved Bottom Line. Increase sales and profits with new products and more economically produced materials.
---
Imagine the Possibilities
Accurate Perforating now offers the unattainable perforated metal ratio, allowing you to:
Utilize thicker perforated metal to increase your product's capabilities and strength.
Create completely new products that haven't been possible until now.
Increase customer satisfaction by offering better products.
Reduce costs by switching from expensive punching, water jetting and drilling methods.
Offer increased product strength over material weakened and distorted through the laser and plasma cutting process. †
† Holes created by a heat source decrease the strength of the metal in the applied area, thus decreasing the strength of fabrications and weldments in the affected section.
---
SuperPerf Solutions
This method provides solutions to standard perforated metal deficiencies:
SuperPerf is ideal for products that require high-pressure resistance and strength, including filtration, separation and screening equipment.
SuperPerf is an extremely durable solution for applications where standard perforated metals don't hold up, such as material processing, construction, power generation and heavy equipment.
SuperPerf brings a competitive advantage to your product with durable, high-quality and accurate perforations, while increasing the product's strength and durability.
---
Markets
Use SuperPerf anywhere you can benefit from the increased durability of small holes in thick metal:
Industrial Equipment

Grain processing
Material processing
Chemical production
Food production

Liquid Filtration

Hydraulic filters
Dewatering
Fish screens
Fracking equipment

Transportation/Heavy Equipment

Air and water crafts
Construction equipment
Agricultural equipment
Road and rail transportation

Architectural/Construction

Sunscreens
Building facades
Decorative elements
Site furnishings

Power Plants

Nuclear power
Hydraulic
Coal
Geothermal

Industrial Facilities

Pulp and paper
Petrochemical
Water treatment
Mining