Appliances
Perforated Metal Ensures Proper Functioning
Perforated Metal Appliance Components
Appliances can't function properly if they overheat, get clogged with debris or experience moisture buildup. Perforated metal is the medium of choice in consumer and industrial appliances to ensure air and light flow, provide protection to the unit and safety features for users, hold filtration substrates and offer design beauty.
Accurate Perforating supplies components for use in:
Dryer drums and flights to capture lint and push air
Dishwasher components to allow water through while catching debris
Refrigeration units and retail display coolers for shelving and internal components
Perforated metal covers on appliance fans to draw air in and provide safety features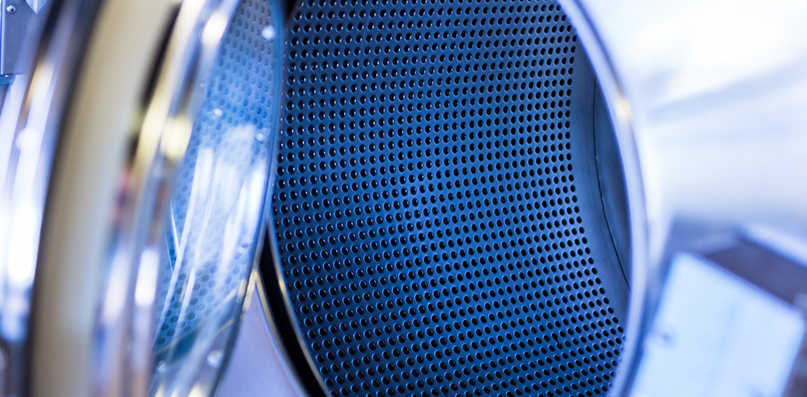 Features and Benefits
Perforated metal components for appliances are durable, sturdy and provide design aesthetics. We offer custom tooling and perforating to meet nearly any design requirement and provide finishes that ensure the longevity of the components in an environment of intense water, air, temperature and debris exposure. While other perforating companies may offer some of these features, at Accurate Perforating, we go a step further — we guarantee production and delivery that will be headache-free for you.
High Quality, Reliable Service
We understand that hassles in production and delivery can result in a loss of revenue for you. We provide precise accuracy in matching up the required components for your product. If you've had trouble with suppliers delivering components that are twisted, not level, have mounting holes or perforations incorrectly placed, or suffered with delivery that is consistently late, we offer you something different — a headache-free process from start to finish.
When you work with Accurate Perforating, you receive components that are free of defect with no camber, and that meet your unique tolerance thresholds for the appliance, matching seamlessly. And we have inventory that is kept well-stocked, meaning you'll have no delay in servicing your customers.