Machinery Capabilities
Regardless of the shaping, forming, pressing, welding, punching, leveling, shearing and/or precision cutting your project requires, Accurate Perforating has the advanced, high-tech equipment to meet your needs. We have capabilities of perforating from 28 gauge to 1" material. We can handle material up to 6 feet wide and 20 feet long in sheets, and coils up to 14 gauge in thicknesses. Our state of the art equipment helps us integrate many secondary operations into the perforating process, which saves you time and money.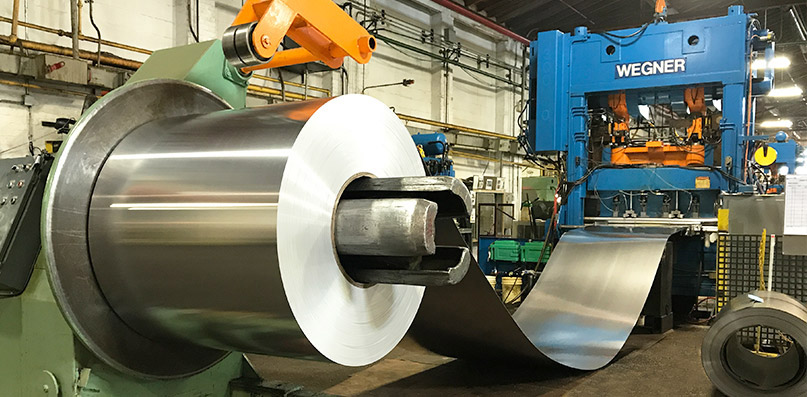 State-of-the-Art Tools
Accurate large tool inventory includes over 2000 different die combinations to meet a wide variety of your perforating needs.  Custom tooling is also available for any special needs.  Our fabricating division has tools that are capable of fabricating metals with speed and precision to your most exacting tolerances and specifications — from simple brackets to complex assemblies. Our shop is filled with dozens of press brakes, panel benders and a comprehensive collection of tools for custom tooling. If it can't be done with tooling our advanced laser technology helps us create complex shapes from even the most difficult-to-cut materials.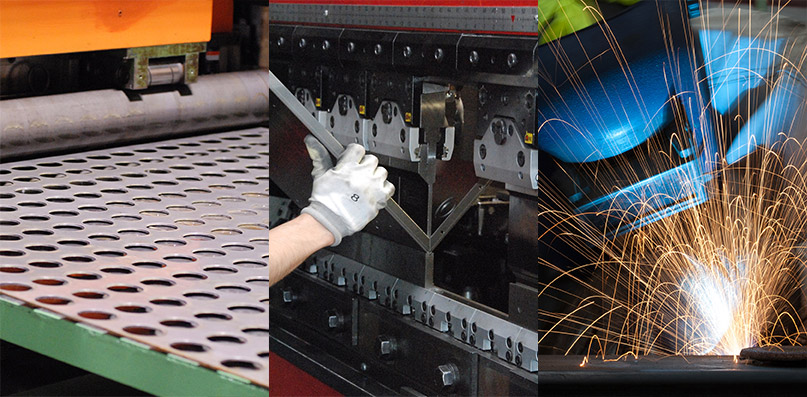 Our On-Site Equipment List
Metal Perforating

18 Perforating Presses available for perforating from 28 gauge to 1" thick material, capable of punching sheets and coils up to 72" wide.

Turret Presses

Amada AE 255NT 45-station CNC with 50" x 50" bed
Amada EMZ 3610-NT: 58-station CNC with 60" x 100" bed
Amada V358K: 58-station CNC with 50" x 80" bed
Amada V255: 31-station CNC with 50" x 50" bed
2 - Amada Coma 55-station turret presses with 60" x 100" beds

Press Break

Amada EG 4010: 7-axis CNC, Bend length 41.3"
Amada EG 6013: 5-axis CNC, Bend length 53.1"
Amada HDS 1303NT: 8-axis CNC, Bend length 127"
Amada HDS 8025: 8-axis CNC (multiple), Bend length 102"
4 - Accupress 71006: 2-axis CNC (multiple), Bend length 120"
12 - Accupress 7606: 2-axis CNC (multiple), Bend length 72"
RAS Panel Bender, Bend length 156" 

Laser Cutting

Amada FLCAJ 3015: 3-axis Cutting area of 120" x 60" 2000w/power output 
Amada LC1212: 4-axis 50"x100" 

Welding

Motoman HP20D-6 DX100: robotic welder cell
3 - Amada TS3SNT spot welders
6 - MIG spot welding equipment
3 - TIG spot welding equipment
Resistance spot welding equipment

Additional Equipment

Drill presses
In house tooling
Slitting
Levelers
Shears
Degreasing line
CNC horizontal mills and wire EDM
Radius rollers and precision rollers
Stamping presses
Punch presses
Notching
Riveting 
Accurate Is as Good as Our Tools
With our continual investment in the latest equipment, technology, and tools, we are able to supply our customers with time savings, manufacturing efficiencies, lower costs, and high-quality products — providing the best value for our clients and keeping us competitive in the global marketplace.