Product Types
We specialize in several metal product options, including: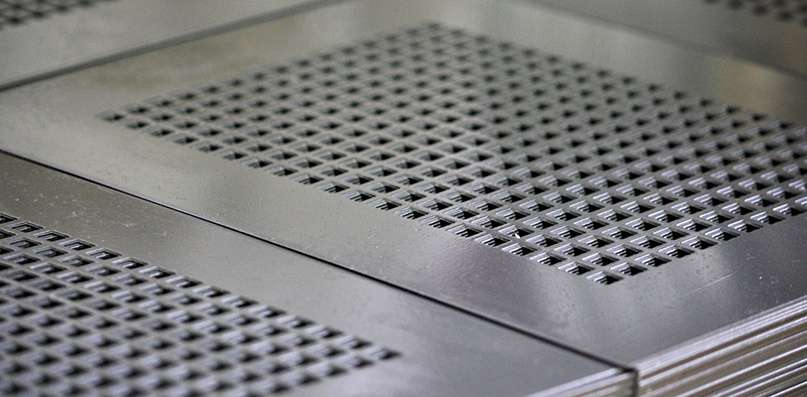 Perforated Metal Coils
We perforate metal coils in many materials, including carbon steel, stainless steel, aluminum, and copper. We perforate metal coils as light as 24 gauge and as heavy as ten gauge, in widths ranging from one inch to 72 inches. Depending on your specific application, coils of various sizes can be used in automated production operations.
Coils are one of the most common ways perforated metal is manufactured and delivered. Coils are widely considered innovative and economical for handling perforated metal, as the material is tightly wound into compact coils for more accessible transport and faster assembly. Because metal coils are so easy to work with, architects and designers have found countless innovative ways to incorporate them into their work. Here are some typical applications:
Natural Light and Shade.

Perforated metal is an excellent option for controlling light. It can be used as a screen against direct light while providing soft natural light to reduce energy use.

Ventilation.

For buildings and machinery, perforated metal promotes better airflow. In a building structure, that means more comfort. For mechanics, it means cooler, safer operations.

Visual Elements.

In addition to functionality, perforated metal adds a level of depth and aesthetic beauty to any design. It can stand alone as its own artwork, or it can complement walls, ceilings, staircases and other structures.
Perforated Metal Sheets
We perforate metal sheets in many materials, including carbon steel, stainless steel, aluminum, and copper. We perforate metal sheets as light as 24 gauge and as heavy as 1/2", in widths ranging from one inch to 72 inches and lengths up to 20 feet.
Perforated sheet metal has been formed or punched to add holes throughout the surface. The holes can vary by size, shape, and spacing. Just as important, the material itself can vary depending on the end use. Accurate Perforating will partner with you to determine how perforated sheets can best be integrated into your project and which materials make the most sense for your specific application.
Perforated metal is incredibly versatile. While its weight-bearing capacity might be more limited than standard sheet metal, perforated metal can be used for essentially any design application, including:
Lighting and Acoustics.

Perforated metal is a perfect solution for controlling light and sound. You'll find perforated metal used to limit (but not fully eliminate) bright light to create a more pleasant, naturally lit environment. You'll also find it in auditoriums and other areas where effective acoustics are needed.

Drainage.

Perforated metal is commonly used for stairs and outdoor furniture where you don't want moisture to pool.

Mechanics.

The ventilation properties of perforated metal make it ideal for keeping engines and machine parts cool.

Aesthetics.

Don't forget appearance — perforated metal can be shaped and formed to create stunning visuals for virtually any design.
Perforated Metal Panels
We can configure our perforating presses, shearing presses, and turret presses to provide perforated metal panels with the required size and dimension. We can also add product options, including margins, mounting holes, notching, radius roller, and corrugating. We can create panels from several raw materials, including aluminum and steel. At Accurate Perforating, we have the tools, knowledge, and capacity to ensure that panels are cut to your specifications and that waste is minimal.
The production process behind cutting panels makes it easier to mass-produce materials within a set budget. With the right tools and attention to detail, you can produce the needed materials while minimizing waste. Many of our customers prefer this method because it is economical.
Perforated Fabricated Components
Combining all our competencies, Accurate Perforating can provide you with a fully perforated, fabricated, and finished component ready for shipping and installation. We can even package, store and fulfill your parts.
Sheet metal fabrication covers a broad range of product types. The most common are parts and blanks. Often, however, customers require finished components for immediate use. This category includes perforated grates or fitted machine parts and architectural features, including parts for building facades, ceilings, screening, and more.
Perforated metal components are frequently found in industrial settings. For example, machines prone to overheating might have perforated metal housings that protect the equipment while allowing heat to escape. Components are also found in factory and production facilities which may be used for drainage and filtering.
Margin Options
Our team can create customized margins for your specific project, allowing you to achieve just the right design or appearance. We meet your specifications regarding the distance between perforated sections to the end of the sheet; or, as with our selective area margins, sections within the existing perforation that are left alone. Our offerings include intermediate margins, safe side margins/min margins, end margins, side margins, selective area margins, no margins, and skip feeds:
Intermediate Margins.

These are the unperforated areas inside the perforated sections used to achieve a particular design or appearance.

Safe Side Margins.

This type of margin is achieved by perforating the material all the way up to the edge but not on or over the edge.

End Margins.

This is the distance from the end of the sheet to the first perforated section parallel to the end edge.

Side Margins.

The side margin is the distance from the side of the sheet to the first perforated section parallel to the side edge.

Selective Area Margins.

These are the unperforated sections in the middle of the perforated sheet typically in a rectangular shape. Some selective area margins can be abnormally yet linearly shaped. Selective area margins are achieved through a computer-controlled tooling system on selective perforating presses.

No Margins.

Holes are perforated onto the edge of the material.

Skip Feeds.

Areas parallel to the width of the sheet are intentionally unperforated or skipped in order to achieve a particular design or appearance.
End Pattern Options
As with our margin options, we can meet your requirements for specific end patterns. End patterns can be finished, unfinished, or symmetrical.
Unfinished Ends.

The end perforation pattern is not solid and it appears rough and incomplete at the end of the perforated sheets.

Finished Ends.

The end perforation pattern is solid, appearing uniform or complete at the end of the sheet.

Symmetrical Ends.

Starting and ending perforated rows have the same perforation pattern appearance.
Final Component Options
In addition to our standard fabricating processes — like forming, bending, cutting, and welding — we can perform supplementary fabricating operations, including profiling, radius rolling, corrugating, notching, and more, to give you ultimate control over how the final component will install and appear.
Countersunk Holes.

Holes are tapered inward so the entire head of a screw or bolt is flush with the surface.

Mounting Holes.

These holes are used to easily mount the sheet or component with a screw or bolt.

Notching.

This is the process of cutting out an area on a perforated sheet or blank for design or functionality.

Corner Profiling.

This involves the cutting of a radius on a sheet or component to round the edge for design or functionality.

Formed/Rolled Radius.

The forming process consistently rolls or forms metal into radiused shapes, adding strength and aesthetic appeal.

Corrugations.

Corrugations enhance the visual appearance and increase strength by forming material into a consistent, symmetrical profile.
Finishing Options
Finally, we understand the importance of an attractive end product, so we offer a wide range of interior and exterior finishes. Our services include anodizing, plating, painting, powder coating, and more, going so far as to ensure an exact match to the color of your choice. We also offer our expertise to help you make the right decision.