InFill Panels
A Beautiful and Structural Addition
Perforated Metal InFill Panel Applications
Infill panels are used for exterior architectural applications such as interior or covered walkways, staircases, balconies, and railing systems. While still allowing occupants to see outside, infill panels provide:
Sun shading
Wind screening
Noise abatement
Privacy
Safety
Stability to a rail, balcony, or walkway system
Infill panels often must adhere to exact specifications for thickness and dimensions to meet code requirements, be precisely perforated to attach to the building or rail system, and also be finished in a manner that is aesthetically pleasing and corrosion resistant. Both for design and structure, infill panels can transform a building.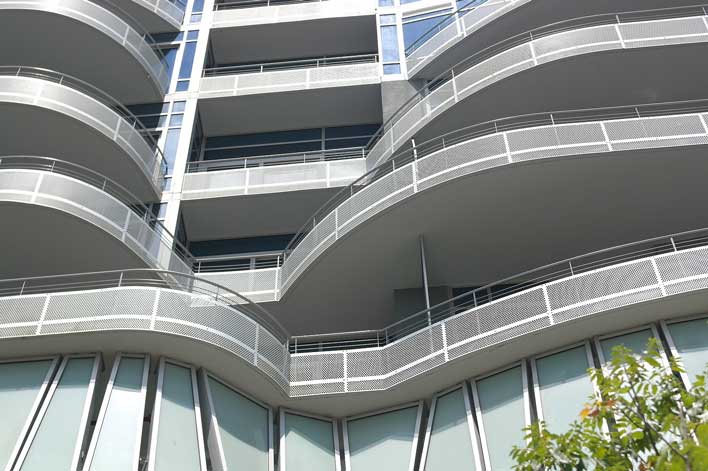 Transform Your Space with High-Quality, Custom Infill Panels
Infill panels transform a building at a reasonable cost. Our experience with an aging apartment building in Schaumburg, Illinois demonstrates how an older building got a "new lease on life" with custom perforated metal infill panels. The goal was to replace older painted plywood balconies afflicted with mold and unsightly decay while minimizing disruption to the tenants, keeping renovation costs reasonable, and creating curbside appeal for the building. Our perforated custom panels met the goal and transformed the building, improving weather resistance and appearance.
Why Accurate Perforating?
Accurate Perforating provides infill panels or entire systems to railing companies, architects, and contractors, or subcontractors. We have the right equipment and over 75 years of relevant experience in perforating, fabricating, and welding metal.
Infill panels can be made with any perforation pattern required and with custom margins to precisely attach to your system. We offer numerous choices for color-matched, corrosion-resistant finishes.
With every order, we also provide guidance with design, engineering, and field measurements if needed, and supply detailed installation instructions. Proper packaging and labeling of panels ensures safe delivery and stress-free installation.