Furnishings
Bringing Durable Beauty to Outdoor Spaces
Perforated Metal Furnishings
Design for a home or business doesn't stop at the back door. Outdoor furnishings should complement the architecture of the building and extend the indoor artistry to the outdoor spaces. Perforated metal furnishings are the select choice for strength, durability and aesthetics. We supply components or finished products to designers and engineers who create specialty furniture — bringing beauty to your outdoor spaces.
Outdoor furnishings need to be able to withstand weather and weight, but can also make a strong statement for beauty of design. Perforated metal furnishings are both rugged and aesthetically pleasing.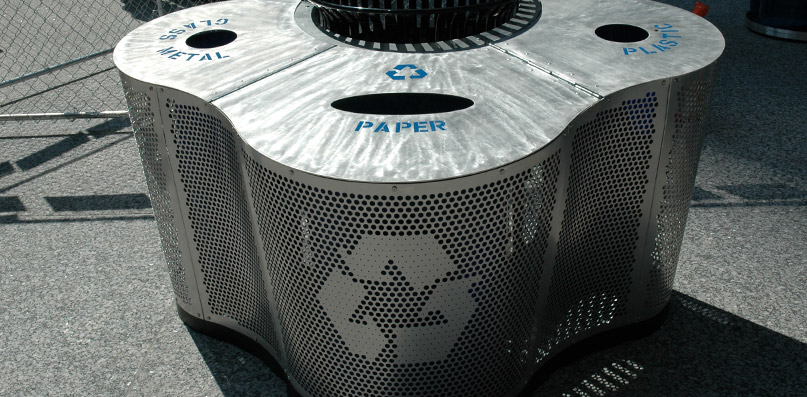 Durability That's Second to None
Exterior use necessitates strength of design and weather-resistant materials. We fabricate perforated metal furnishings in a variety of durable materials, including thick aluminum and steel. Internal framing components are solid (without perforation), which yields the greatest strength to your furnishings at key structural areas.
We also offer performance-proven finishing types — powder coated, anodized, Kynar® or PVDF, Duranar®, PPG brand paints and more — guaranteed for long-lasting beauty. Since we have expertise in the architectural market, we can recommend excellent options for your weather-resistant exterior architectural coatings. The end product: beautiful outdoor furnishings that last.
Customized Design Options
We have experience in fabricating and finishing and the tools to offer the full range of customized features:
Pattern tooling options
Options to perforate end and side margins
Multiple perforating patterns through our extensive tooling library
Laser equipment to customize a logo for your business, city or shopping center/mall
Ability to design new perforating patterns to match your unique needs
Accurate Perforating has the capabilities to take your outdoor furnishing project from design to fabrication to finish, saving you the headaches that come with warehousing the products during the production phase. Let us produce and deliver the high-quality perforated metal furnishings that will bring beauty to your outdoor spaces.