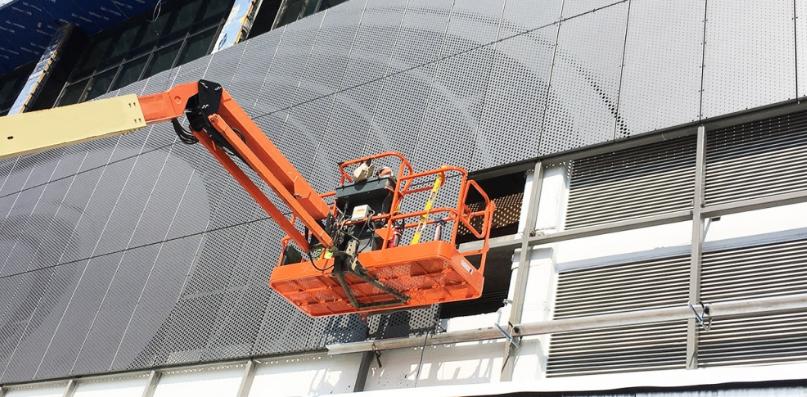 Are you looking for a better solution than your standard perforated sheet? Let Accurate create the panels you want — in the materials, pattern, and shape you require. 
Delivering Quality Metal Panels on Time and on Budget
The professionals at Accurate Perforating help you manage your project. We maintain tight control over the quality and beauty of the finished product. As a large perforating metal manufacturer, we leverage our position to keep prices as low as possible while ensuring availability, and this means that you receive your materials to your specification and within your budget. We make it a point to provide an accurate quote so there are no surprises or hidden costs.
Collaborating to Achieve the Best Outcome 
For decades, Accurate Perforating has been a trusted source of perforated metal for contractors. Our dedicated professionals work with architectural consultants, sales reps, estimators, and project managers, and our equipment and tooling is optimized for construction applications. We work closely with you to evaluate the design so we can help you bring it to reality. Using perforated metal from Accurate guarantees an efficient, economical, and beautiful result. 
If the design is feasible, we determine the best materials and methods to achieve the desired outcome, but we also understand that sometimes the architect's idea needs to be modified or simplified for practical purposes. Not only do we ensure that your finished components can be installed, but we also provide installation experience and guidance. Our perforated panels for contractors arrive in perfect condition, labeled for easy installation. 
Customized Perforated Metal Is a Great Value
Perforated metal for contractors has been used in many ways because it can be tailor-made to precisely meet the needs of the projects. Customized perforated metal is of great value, as it eliminates waste and reduces installation time vs. steel sheets. When you use steel, you are limited to the traditional sizes and spans in which it is available; perforated metal allows you to create the spans you want, in practically any design you want. Accurate Perforating can provide a wide variety of perforated panels for contractors, including stainless steel, aluminum, galvanized metal and weathering steel, and copper. We work with various gauges so you get exactly the thickness you want.
Easier Installation with Accurate Perforating 
We understand the contractor's need for quick and easy installation. That's why Accurate can also fabricate perforated metal components that are designed to attach to nearly any type of structural material with no rework and no waste. We form perforated metal into a variety of shapes and profiles to make installation easier. We can add margins to the panels to facilitate a secure connection to the structure, and we can cut mounting holes into the solid margins as well.
Accurate Perforating goes even further than that. We help you reduce installation time by labeling and mapping your perforated metal components, allowing you to easily locate and identify each panel so it can be fastened quickly onto the structure. With a project "map" and instructions, installation is as simple as working on a jigsaw puzzle that comes with each piece's location clearly labeled. It doesn't get any easier than that!