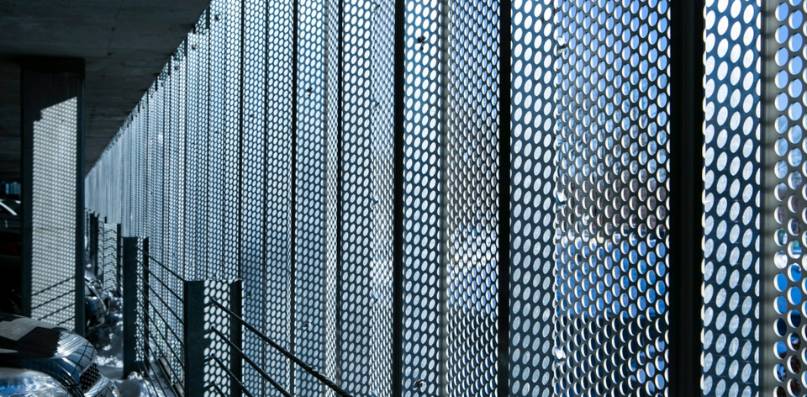 At Accurate Perforating, we bring architectural perforated metal panels to reality with flexibility, responsiveness, and timeliness. Our dedicated team includes architectural perforated metal consultants, sales reps, estimators, and project managers, and our equipment and tooling are optimized for perforating and fabricating construction applications. Because we manage your entire project, we maintain tight control over the quality and beauty of the finished product while helping you complete your project on time and within budget.
Accurate is at the forefront of perforated panels for architecture and sunshades, sunscreens, facades, fencing, decorative signages, ceiling panels, acoustic panels, HVAC, and more. Our Architectural Project Managers evaluate your concept, collaborate on the best methods and materials for producing it, and then create perforated metal for architecture applications using the fabrication, finishing, and delivery services your project requires. They keep your project on track — no matter how demanding the work or delivery schedule may be — while creating a product that looks amazing.
Benefits of Working with Accurate Perforating 
A vast selection of standard perforation patterns and the ability to create tooling for virtually any custom pattern
Standard perforated sheets and coils
Custom perforated sheets and coils beyond standard 4' x 10' are made to fit your design, so you get exactly what you need at the optimal price.
Numerous services to help ensure your project's success
Samples, prototyping, and fabrication of custom parts and components
Assistance in green design and help in developing sustainable components that meet LEED requirements
Complete forming, welding, laser cutting, punching, and assembly services
Total finishing services, including galvanizing, painting, powder coating, anodizing, plating, PVDF, and custom finishes for architectural perforated metal wall panels and other elements
The market leverage of a large supplier keeps prices low and ensures availability  
Working with the Accurate Perforating Team
Our architectural perforated metal team loves to discuss plans, even fresh ideas that have not previously been executed, and we are committed to helping you bring your concepts to reality — whether your ideas are in an architectural drawing or your head. Feel free to present any ideas or ask any questions; if your concept can't feasibly be produced, we will steer you in an ideal direction. We understand the roles that light, wind, sound, and heat play in perforated architecture products, and our goal is to provide perforation solutions that are realistic as well as beautiful.
Whatever your vision for the project, we welcome the challenge of making it real — quickly and accurately. In most cases, if you can think of it, we can do it. From architectural metal screens to other configurations, we've got it covered. We work comfortably with various materials — carbon steel, stainless steel, aluminum, copper, bronze, zinc, plastics, and more — in multiple thicknesses and sizes. We also bring in our metal fabricating expertise and our finishing partners to provide you with a finished component ready to be installed.