INTERIOR DESIGNS IN PERFORATED METAL
Make a Statement in Your Interior Design Project
The Qualities of Perforated Metal
When you want to make a statement, decorative perforated metal panels are ideal for showcasing the quality and aesthetics you value.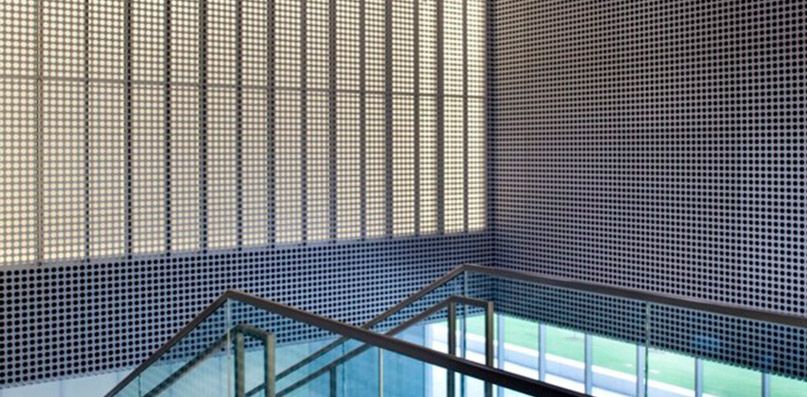 Perforated metal is lightweight
Available in unlimited perforation options
Provides ventilation
Has great load-bearing strength
Can take on nearly any shape and form for your interior design needs
Is striking in appearance
Is exceedingly durable
Perforated Metal Applications in Interior Design
Interior designs with perforated metal can be seen in:
Lighting enclosures
Privacy Screening
Column covers
Decorative elements
Decorative stair treads
Seating
Railings
The Right Experience and Tools for the Job
Accurate Perforating has an extensive tooling library, with over 2,000 tooling patterns that are ready to run for your decorative perforated panels. Our perforation patterns include a wide range of standard (round staggered, straight, slot, square), SuperPerf, ornamental patterns, and more. If you don't see the pattern you want in our perforation options, custom perforation patterns of any design are possible. All tooling is done on-site, saving you money while ensuring the highest quality.
There are numerous choices for materials (carbon steel, stainless steel, copper, aluminum, brass, iron, plastics, and more).  Finishing options allow you to match your exact color choice and to select from an array of finish types and coatings. This means that your decorative perforated metal project can be customized to the architecture of the building. Our state-of-the-art laser cutter can be set to run 24/7, which helps to ensure a quick turnaround on orders.
Accurate has over 75 years of experience in metal perforating, fabricating, forming, and finishing. We have experience working collaboratively on projects with architects, design teams, and contractors. We are ISO 9001:2015 certified, which means you can count on consistent quality with any custom-decorated perforated metal product for interior design.