Let Us Configure a Better Panel
When some contractors consider perforated metal panels, they may be thinking only of the standard 4' x 10' carbon steel panels that are perforated right up to the edges. Accurate Perforating is here to let contractors know that there are so many more custom perforated metal options than that — and that we can create a custom panel solution that meets their need so much better than those traditional products.
With our engineering expertise, decades of experience and advanced presses, we fabricate sheets, coils and components with perforated holes in a wide range of diameters; in a range of shapes and decorative patterns, including custom designs; in many gauges; and in an array of metals and other materials.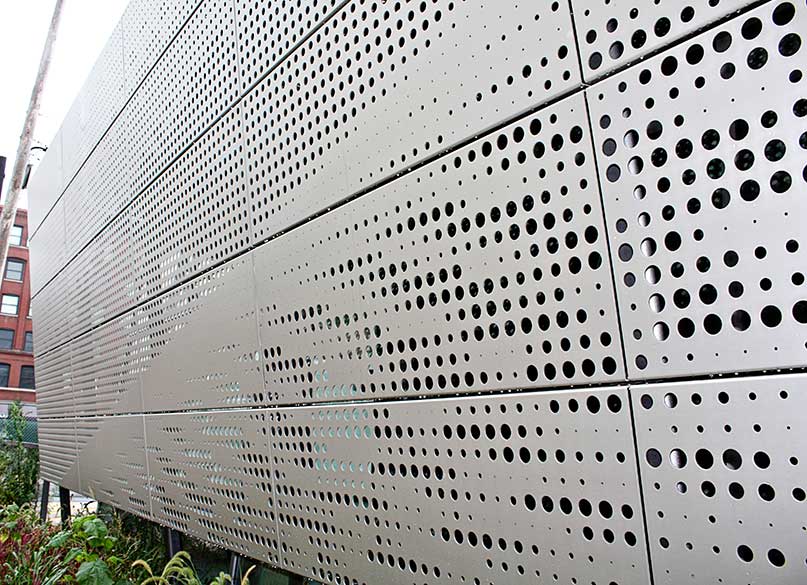 Parts and Blanks
We can manufacture parts and blanks based on your concept, drawing, design specs or sample, and then fabricate them into even the most complicated shapes. We form, punch, weld, laser cut and custom tool and stamp many different materials — quickly, to the highest quality standards and to your exact requirements. We can even create margins on the sides and edges to meet your unique needs.
Screens, Guards and Grilles
Accurate Perforating meets your project's requirements for custom metal panels, speaker grilles, privacy screens, light fixture diffusers and more. No matter what size, shape, thickness, perforated pattern or quantity, we can create the perfect component for your fabricated sheet metal component. With more than 75 years of experience in providing sheet metal grilles, screens and guards to OEMs, architects, manufacturers, we can fabricate and perforate any design you want — from the simplest to the most complex.
Product Options
Here is a brief overview of our capabilities. For more details, please see our products options page.
Product Types.

We specialize in perforated coils, custom perforated sheet metal, perforated blanks and fabricated components made by combining perforating with other processes.

Margin Options.

We create customized margins to your specs, so your project looks exactly like you intended in terms of design and appearance.

End Pattern Options.

Whether you want finished, unfinished or symmetrical end patterns, count on Accurate Perforating to meet your requirements.

Final Component Fabrication Options.

We offer profiling, radius rolling, corrugating, notching and more, giving you more control over how your component will both install and appear.

Finishing Options.

Interior and exterior finishes include anodizing, plating, painting, kynar coating, powder coating and more. We ensure an exact match to the color of your choice.