Manufacturing Services
We know that OEMs and fabricators often want additional manufacturing services, including product design, engineering, and logistics. That's why we go way beyond perforating and fabricating. Accurate Perforating offers the service and support that provides you with a more cost-effective solution. In addition to our standard capabilities, we provide the following services to help you quickly bring a better, lower-cost product to market.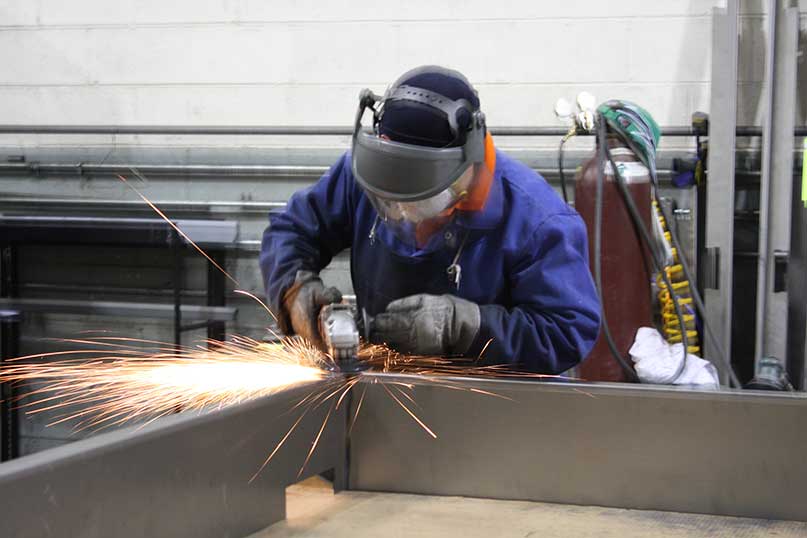 Samples and Prototyping
Accurate keeps samples of some of the most popular patterns in our tool library and can supply them to you at no cost. When available, samples come in select 4-1/2" x 4-1/2" powder-coated swatches or 8" x 8" uncoated sheets. We can custom-manufacture it for a fee if you require a larger sample, a different pattern, another material, or a different gauge. For larger projects, the cost of the sample often is credited to the total cost of the project.
During this manufacturing service, we develop prototypes from drawings quickly and precisely. After the prototype is fabricated, it is scrutinized to ensure that specified compliance is achieved. Our engineers thoroughly examine the component to improve production quality, functionality, and cost. All our hard work upfront allows us to produce a part that performs flawlessly to your requirements.
Manufacturing Service - Stocking and Fulfillment
In addition to quality-controlled warehousing and coordinated drop-shipping, Accurate has years of experience coordinating with carriers and shipping docks. Plus, our long-term relationships with truckload and LTL carriers help us ensure that every job — no matter how large or small — gets to its final destination safely and on time.
We have more than 30,000 square feet of available storage space. Our central location gives us an advantage, allowing us to quickly ship within the Midwest or to locations throughout the U.S. and Canada.
Some customers use our warehouse to keep a reserve supply of their products and components we ship to them as needed. Others use our warehouse as a stocking and fulfillment center — they never even touch the products we ship directly to their customers, saving carrying costs and reducing transportation fees. Our shipping department oversees all fulfillment work, coordinating supplies, storage, and drop-shipping for seamless just-in-time processes.
Blanket Orders
Because we have significant storage space and strong buying power, we offer you our blanket order program to significantly reduce your carrying costs, lead times, and standard price.
Toll Processing/Labor Only
Toll processing is another manufacturing service from Accurate Perforating. With toll processing, the customer supplies the material to the manufacturer, which is processed as "labor only." When might this manufacturing service be needed? Suppose you have unique material or can purchase material at an advantageous rate. In that case, Accurate Perforating can perforate it for you, charging you only the cost of processing the order and material, setting up the equipment, and perforating the material. You, as the customer, are responsible for the material itself.
Manufacturing Service - Finishing Capabilities
We offer a range of finishing capabilities — including grinding, polishing, deburring, and sanding — in various colors to increase product appearance and durability. During this manufacturing service, we help you determine the best finishes and colors based on your specific metal, the application, and interior or exterior location. Choose from anodizing, plating, painting, powder coating, and fluoropolymer finishes. We are prepared to manage the finishing of your parts, providing an exact match to the color of your choice. And, of course, we can draw on our breadth of experience to suggest the right finish for every project.
Finishing metal is a demanding task that can make a crucial difference in the appearance and durability of the final product. We recommend that you rely on our finishing services for the best results. We offer many types of:
Anodizing.

Anodizing is an electrolytic process used to increase the thickness of the oxidation that naturally forms on the surface of many metals. Typically used with aluminum, anodizing takes advantage of the inherent properties of aluminum oxide to create a hard, corrosion-resistant surface. Anodized aluminum has an attractive metallic sheen, and can be either clear or dyed in various colors.

Clear Coat (Anodizing).

Clear anodizing is a process that creates a thin layer of aluminum oxide coating on aluminum metal without the use of dyes or pigments.

E-coating.

E-coating is an electro-painting or electrophoretic lacquering process that deposits a paint or lacquer coating.

Electrogalvanizing.

The most common galvanizing method is electrochemical deposition of the zinc alloy. Because this process creates a relatively thin layer of galvanization, painting is generally recommended for outdoor applications to provide the best corrosion resistance.

Hot-Dip Galvanization.

The part is passed through a molten zinc bath, providing a much thicker coating of zinc at a somewhat higher cost compared to electrogalvanization. Hot-dip galvanization produces a characteristic crystallization pattern or "spangle" on the surface.

Paint Grip.

Galvanized steel is dipped in a phosphate bath for additional corrosion protection and to improve paint adhesion.

Paint Lock.

Galvanized steel with a zinc coating is electronically deposited and then chemically treated to improve adhesion of paint or powder coat finishes.

Plating.

Plating refers to a number of processes for depositing a coat of one type of metal on the surface of another. Plating materials can be chosen for their beauty, corrosion resistance, hardness and a variety of other purposes. Examples include gold, silver, chrome, zinc, tin, cadmium and many others. Plating techniques also vary, and include both electroplating and electroless methods.

Powder Coating.

Powder coating is an electrostatic process for applying a dry, powdered material such as polyester, polyurethane or epoxy. The piece is then heat-cured to flow the material together and create the final finish. Powder coating is generally thicker and more durable than paint, although the cost can be somewhat higher depending on the project. A broad selection of colors is available. Our new state-of-the-art powder coating paintline is available for full jobs or toll processing.

Silk Screening.

Silk screening is a process that is used to create prints on a wide variety of materials. This method involves transferring an ink or die through a pattern on a very fine mesh stretched tightly onto a frame.

Kynar® or Polyvinylidene Fluoride.

Kynar is a fluoropolymer plastic that provides excellent strength and resistance to acids, bases and solvents. Available in a wide range of colors, textures and gloss, the durability and heat resistance of Kynar make it an excellent choice for architectural projects, especially where perforated metal is used to control heat gain. Kynar is also a perfect choice for industrial applications in which corrosive substances are used. It is specifically formulated to be applied to aluminum.

Duranar.

Duranar is a fluoropolymer system with multiple coats that provide excellent protection against chipping, peeling, fading and staining in weather-exposed applications. It is specifically formulated to be applied to aluminum.

Tnemec.

Tnemec is a high-endurance coating or finish specially formulated to be applied to aluminum and carbon steel. It is generally used in applications requiring the highest purity, strength and resistance to solvents, acids, bases and heat.

PVDF.

PVDF is a specialty plastic coating or finish in the fluoropolymer family generally used in applications requiring the highest purity, strength, and resistance to solvents, acids, bases and heat. Specifically formulated to be applied to aluminum.

Hylar.

Hylar is a specialty plastic coating or finish in the fluoropolymer family generally used in applications requiring the highest purity, strength, and resistance to solvents, acids, bases and heat; also called PVDF. Specifically formulated to be applied to aluminum.

UV Coating.

UV (ultraviolet) coating is a curable coating applied directly to metal coatings to enhance their durability, scratch resistance and fade resistance.
Secondary Operations
Polishing.

A process that utilizes buffing wheels and/or compounds to smooth the surface of metal, creating a consistent, high-gloss appearance.

Grinding.

This mechanical process removes rough or uneven areas on the perforated or fabricated metal surface to prepare the material for finishing.

Timesaving.

This machine is used on metal components and sheets to remove burrs and imperfections for the purpose of creating a smooth surface that is ready for finishing.

Deburring.

This finishing method removes the ragged edges or protrusions caused when metal is welded, molded, cast, trimmed, slit or sheared.

Degreasing.

This process removes oil, grease, dirt and other contaminants from the surface of perforated metal, usually as preparation for applying paint, powder coat, plating or another type of finish. Degreasing can be accomplished using appropriate solvents, which are applied to the part either as a liquid or a vapor.
Tooling and Machinery Manufacturing Services
One of the most unique manufacturing services we off is tooling. In our business, tooling is everything. We design specialized machine tools to perforate standard and custom hole sizes from 0.045" to 4.0" diameters and slotted, square, hexagonal, and decorative perforations. Our tools are also designed to handle specific material types and gauges so you get the highest-quality product.
The perforating process starts by designing and machining precision tools to exact tolerances. Machining a new tool is a costly and time-consuming process. From start to finish, creating or replacing a tool can take up to 18 weeks. To keep costs low and lead times short, all our tooling is done in-house on sophisticated CNC machinery, including wire EDM machines and programmable CNC drill presses.
During the perforating process, perforating tooling naturally wears down due to metal pounding on metal. Our tooling department keeps a close watch on the age and wear of each tool to make sure that our tooling is available when needed. Before a tool has reached maximum usage, the tooling department proactively machines replacement components while reconditioning the tool to keep it active. We maintain multiple tools in our library for popular perforation patterns to ensure availability and fast lead times.
We maintain an immense tooling library, with more than 2,000 ready-to-run tooling patterns in our plant. If we don't have the pattern you're looking for, we can often build a custom tool for the job in our on-site tooling department. We're happy to discuss your unique requirements.
Precision Leveling
The perforating process naturally curls any material, resulting in a warped sheet if not corrected. If a flat material is required in your design, just the slightest curve or bow can ruin the project.
Accurate Perforating performs every step necessary to make sheets virtually flat. With our equipment and skills, we can make sheets far flatter than what the perforating industry recommends. We have numerous leveling systems in-house, each designed to flatten metal within a particular material thickness range. Let our knowledgeable, experienced engineers and estimators guide you to the ideal solution for the flattest sheet possible.
Shearing
Accurate typically buys material cut-to-size to reduce cost and scrap. However, when the sheet does need to be altered, we have numerous shears with various capabilities to fit your product needs. Our shears are capable of cutting metal up to 1" thick and 10' wide. We have specialized conveyor shears that can cut over 100 pieces per minute within accurate tolerances. Precision shearing tolerances are within - 0.010" to +0.010". Our high-speed cut-to-fly shears have tolerances of -0.125" to +0.125".
Assembly and Packaging
Accurate Perforating can customize your final installation and application to meet your needs. We can do everything from graphic applications to electronics and hardware installations.
When shipping your order, our professionals ensure that it is packaged in a way that guarantees safe delivery. Regardless of the size or shape of your component, we develop unique packaging to protect it, including:
Custom coil cores (cardboard, metal)
Custom coil positioning (eye-to-the sky, eye-to-the-side)
Custom robust pallets (extra runners, thicker boards)
Custom banding and supports
Custom crates
We may utilize a custom packaging house for specific requirements or special orders.
Every order we ship includes detailed, comprehensive instructions. This ensures that any components that need to be assembled after delivery can be put together quickly.
Payment Terms
We understand that our most essential service is allowing you to earn your customer's business. When necessary, Accurate Perforating can work with you on special payment terms to help you secure the deal. Contact your local Accurate Perforating salesperson to determine whether you qualify for special payment terms.