Your Custom Metal Fabrication Specialist!
Sheet metal fabrication is one of our flagship offerings, and it's an area in which we excel. Precision sheet metal fabrication takes a high level of skill to meet specifications in material, hole size, panel size, and more.
Accurate Perforating can provide everything you need — from standard sheets and coils to fully formed and finished components. Why go to one shop for simple perforated sheets and another for customized perforated metal? Stop wasting money by outsourcing to different vendors; simply consider us the one-stop shop for all your perforated metal needs. Whether you need perforated material for architectural, retail display, lighting, agricultural, automotive, or almost any other market, Accurate Perforating can provide it — correctly, quickly, and efficiently.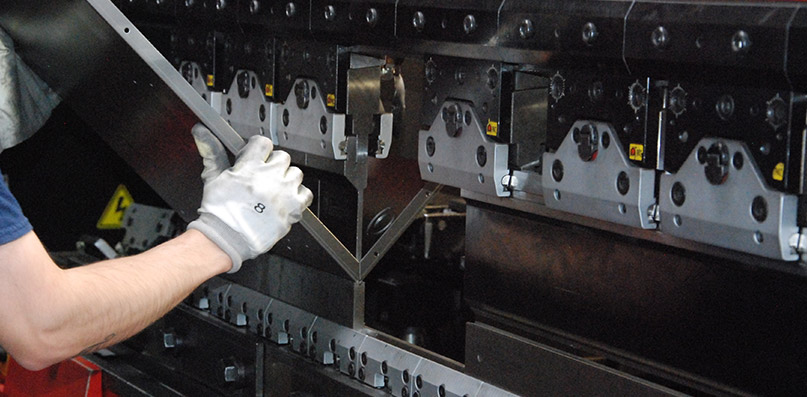 Fabrication Capabilities
Our fabrication capabilities range from forming and laser-cutting to punching and welding. We can incorporate mounting holes, notches, forming, profiling, corrugating, and more into your project. We also provide assembly services, building perforated parts into completed components for electronics manufacturers and other OEMs. Plus, we can apply a variety of finishes — such as powder coating, anodizing and Kynar® — to provide the specific look and level of protection you need.
Once your project is complete, we offer the most flexible options for delivering it. We can custom-package completed parts to your specifications for safe delivery. We can provide warehousing, ordering and stocking services, distribution solutions, and just-in-time delivery.

Our Custom Capabilities
Accurate Perforating is home to the most skilled and dedicated metal fabricators in the business. Our knowledge and expertise in this industry is unmatched. We offer a full range of precision metal fabrication capabilities to bring your design to life while adding value, timeliness, and overall cost savings to your project. Our team understands that one-size-fits-all isn't in your best interest, so we focus primarily on custom sheet metal fabrication.
Custom Fabricating

Our dedicated fabricating division, Accurate Metal Fabricating (AMF), has been providing metal fabrication to OEMs and job shops for over 80 years. This division engineers, prototypes and fabricates precision sheet metal components to the most precise specifications for the most demanding companies. Fabricating capabilities include punching, forming, perforating, welding, laser cutting, light stamping, custom tooling and shearing.

We do small and large production runs, and can assist you with the design and development of prototypes for larger projects. Our first-article inspection process lets us determine that the quality and specifications of your component are met before we undertake the final production run. And rest assured that you'll get your products when you need them — we can run 24/7 to meet even the largest orders.

Laser Cutting

Our precision laser cutting capabilities and CNC equipment allow our design engineers to create even the most complex shapes from materials that are traditionally difficult to cut. With our capabilities and expertise, we can provide custom-cut sheet metal solutions for a wide range of materials, including carbon steel, aluminum and stainless steel. Our advanced laser cutting machine's capacities enable us to handle sheets 5 feet wide, 10 feet long and up to 5/8" thick. Laser cutting is a good option for low- to medium-volume runs. In fact, we even have a machine that is automated so it can run 24/7 without personnel.

Our laser cutter is:

Amada FLCAJ 3015: 3-axis Cutting area of 120" x 60" 2000w/power output
Amada LC1212: 4-axis 50"x100"

Forming and Bending

Accurate has state-of-the-art press brakes that meet product requirements while providing customers with high-quality, precision forming of material up to 10 feet long. We also have the machinery and expertise to bend material lengths up to 6 feet. While we have a large library of tools to meet most forming requirements, we can develop custom tooling to meet your design needs. With multiple machines, hundreds of tools and seven decades of experience, Accurate can handle essentially any forming/bending request.

Our forming and bending machines include:

Amada EG 4010: 7-axis CNC, Bend length 41.3"
 Amada EG 6013: 5-axis CNC, Bend length 53.1"
Amada HDS 1303NT: 8-axis CNC, Bend length 127"
Amada HDS 8025: 8-axis CNC (multiple), Bend length 102"
4 - Accupress 71006: 2-axis CNC (multiple), Bend length 120"
 12 - Accupress 7606: 2-axis CNC (multiple), Bend length 72"
RAS Panel Bender, Bend length 156"

Metal Punching

With dozens of perforating presses, multiple CNC turret punch presses and thousands of tools, Accurate can meet any metal punching requirement. We punch material as thick as 1/2" and as thin as 28 gauge and process material up to 6 feet wide. We can even punch coils hundreds of feet long on one of our perforating presses. We have a turret press with the largest bed commercially available at 60" x 100" to accommodate your most complex parts.

Among our dozens of perforating presses and multiple CNC turret punch presses are:

Amada AE 255NT 45-station CNC with 50" x 50" bed
Amada EMZ 3610-NT: 58-station CNC with 60" x 100" bed
Amada V358K: 58-station CNC with 50" x 80" bed
Amada V255: 31-station CNC with 50" x 50" bed
2 - Amada Coma 55-station turret presses with 60" x 100" beds
The Accurate Perforating Difference
Accurate Perforating is among the leading stainless steel sheet metal fabrication companies, and we distinguish ourselves with our wide-ranging services specific to perforated metal. From offering guidance and metal fabrication tips all the way through planning and production, we make it our business to be a valued partner to you.
By tailoring our production capabilities and fulfillment processes to your business model, we help you operate more efficiently and profitably. Our flexible and expandable production capabilities, state-of-the-art equipment and experienced, committed staff can handle nearly any project — from concept through delivery.