Precision Leveling
Did you know that the perforating process naturally curls any material, resulting in a warped sheet if not corrected? We fully understand that if a flat material is required in your design, just the slightest curve or bow can ruin the project.
At Accurate Perforating, we perform every step necessary to make sheets virtually flat. We have numerous in-house leveling systems, each one designed to flatten metal within its own optimum thickness range. In fact, Accurate has the equipment and skills to make sheets far flatter than what the perforating industry recommends. Our engineers and estimators can guide you to the ideal solution to provide you the flattest sheet possible.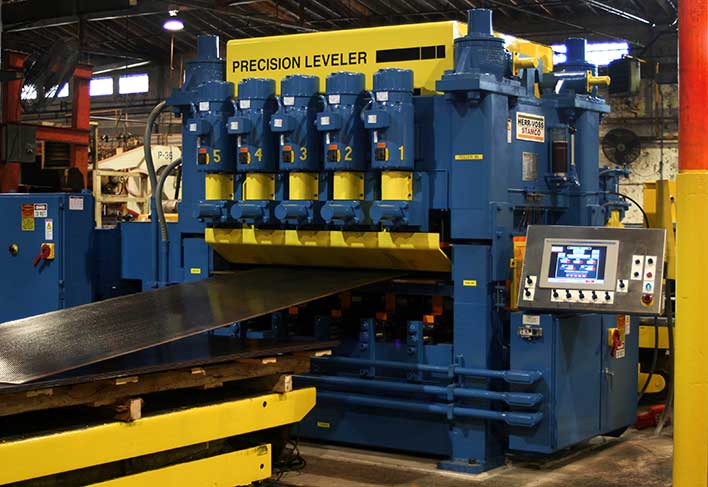 Leveling Equipment
Because accurate leveling is so crucial, many projects take advantage of the most advanced leveling system available today — the Herr-Voss CNC Leveling System. Herr-Voss Stamco is the recognized leader in designing and building precision leveling equipment. The company has engineered and manufactured thousands of precision roller levelers that produce the highest-quality, flat-rolled products in every available material.
Herr-Voss levelers are highly regarded by mills, service centers and OEMs for their performance, reliability and outstanding value. Their reputation as the leader in leveling technology has been built upon over a half century of experience and service.
A few of Herr-Voss Precision Leveler features and innovations are:
CNC Processor.

The latest Herr-Voss innovation features automatic calibration and patented stretch compensation.

Punch-N-Go Set-Up.

Menu-driven operation has the ability to save and recall machine settings.

LaserFlat.

This feature measures the strip shape exiting the leveler and indicates the adjustment to the backup flights accordingly.
Flatness Tolerance
The charts below show the maximum deviation from a perfectly horizontal flat surface. A ruler that does not flatten the material has been used to measure the amount of flatness. The measurement is taken from the highest point (or points) of the sheet or plate to the table surface minus the material thickness.
Note: If not otherwise specified, commercial quality is supplied. Flatness tolerances listed are of roller leveled sheets or plates with no or minimum margins. For material 10' or less in length, variation should not exceed amount shown in table. For material longer than 10', the variation in flatness for any 10 feet of length should not exceed the amount shown. Where the longer dimension is less than 36", the variation in flatness along the length and across the width should not exceed 1/4" in each direction. When the longer dimension is from 36"to 72", the flatness variation should not exceed 75 percent of the amount shown for the specified width; but in no case less than 1/4". Margins will usually increase the maximum deviation; please consult your IPA member supplier.
H.R. & C.R. Steel Sheet, Plate & Hot Dipped Galvanized Sheets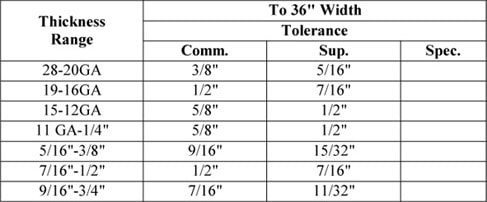 Stainless Steel and Other Heat Resistant Alloys Sheet & Plate


Aluminum & Copper


H.R. & C.R. Steel Sheet, Plate & Hot Dipped Galvanized Sheets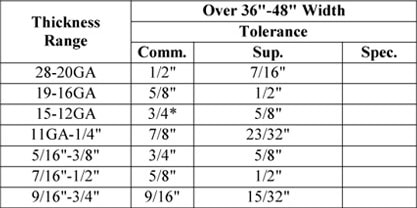 Stainless Steel and Other Heat Resistant Alloys Sheet & Plate


Aluminum & Copper


H.R. & C.R. Steel Sheet, Plate & Hot Dipped Galvanized Sheets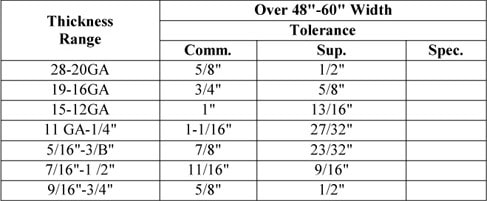 Stainless Steel and Other Heat Resistant Alloys Sheet & Plate


Aluminum & Copper


H.R. & C.R. Steel Sheet, Plate & Hot Dipped Galvanized Sheets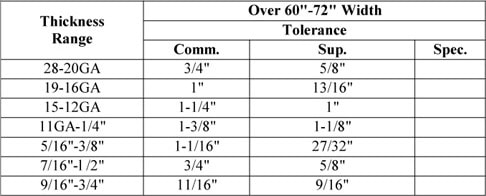 Stainless Steel and Other Heat Resistant Alloys Sheet & Plate

Aluminum & Copper