Custom Perforated Metal Signs
Custom-Cut Metal Signs for Indoor or Outdoor Use
Custom Perforated Metal Signs
At Accurate Perforating, we can produce beautiful and functional custom-perforated metal signs from metal panels. We create the design by varying the hole sizes, spacing, and patterns, according to your specifications. Plus, we offer a range of finishes and colors so you get exactly what you want. What's your sign?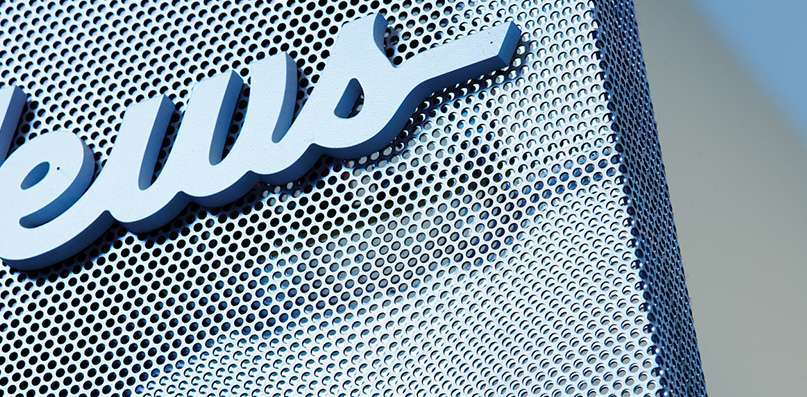 We also create impactful signage by affixing your logo or company name to perforated panels made from brass, stainless steel, weather-resistant copper, and more. These custom perforated metal signs improve the interior and exterior appearance of your building while helping you build your brand.
Amazing PicturePerf Design Panels
PicturePerf is a new fabricating technology used by Accurate Perforating to bring a new level of beauty and visual impact to perforated metal design panels for architectural applications. PicturePerf panels are highly effective for exterior and interior building signage, among other uses.
The PicturePerf fabricating process starts with an image or graphic design, which is then translated into an impression on metal that looks almost like a photograph but consists of small holes in the metal rather than pixels. The finished product is so detailed and lifelike, anyone who comes in contact with it can't help but be amazed!
Built for Any Business
Custom aluminum signs can make an impact for virtually any kind of business. At Accurate Perforating, our portfolio of successful projects includes banks, restaurants, and more. We understand how vital it is for your company or location to stand out among a sea of competitors, and our products are sure to grab attention and make your brand pop. Whether you choose custom outdoor metal signs or install them indoors, we can craft a solution to fit your space. No matter what industry you're in, our skill and expertise can help create the best possible first impression on customers and visitors.
Why Choose Accurate Perforating?
Our ability to produce high-quality, eye-catching perforated design panels is not the only reason we hold a leadership position in the industry. For example, our ISO 9001:2015 certification demonstrates how seriously we take our quality control protocols. We are dedicated to doing our absolute best every single day for our customers. When you choose to work with us, you can be confident that we will give you the highest levels of effort and professionalism in every aspect of your project.
We are also committed to being a good corporate citizen through our green manufacturing initiatives. Not only do we use sustainable materials in our custom perforated metal signs, but we also operate in an eco-friendly manner throughout our entire facility. This includes recycling a high percentage of scrap and office materials, as well as utilizing energy-efficient lighting. We're always looking for ways to improve the efficiency and sustainability of our manufacturing processes.
Recently, we added a new Powder Coating Paint Line! This state-of-the-art line features 8X Automatic spray zones and can handle parts up to 400 lbs and 47" wide! This value-added service is available for jobs small and large. Learn more about it here.
We give you our word that whatever work we do for you will be done with high-quality and timely production. To learn more about how we can help you accomplish your goals, get in touch with us today for a quote.