PERFORATED SHEET PAN
The Recipe for "Just Right" Baked Goods
Perforated Baking Pans and Trays
Perforated metal baking trays and pans are sturdy, innovative, warp resistant, long lasting and the top selection of many culinary experts. Why?
Perforated bakeware promotes efficient heat transfer and distribution, and shortens cooking time to yield a baked good that's slightly crisp on the outside yet still moist inside. It means baked goods that are just right — flaky pie crusts, pizza dough that has the right crunch, baked bread loaves that have a perfect outer crust and a soft center, and cookies that are crisp but not burnt.
Accurate Perforating supplies fabricators and manufacturers with perforated metal blanks used to manufacture baking ware — cooking pans, baking sheets, warming cabinets, pizza pans, pie plates and more. We offer aluminum or stainless steel sheets and have many hole patterns that you can choose from, depending on the air flow needed for your specific baking products. In fact, perforated metal is part of the entire process from agriculture to finished baked product.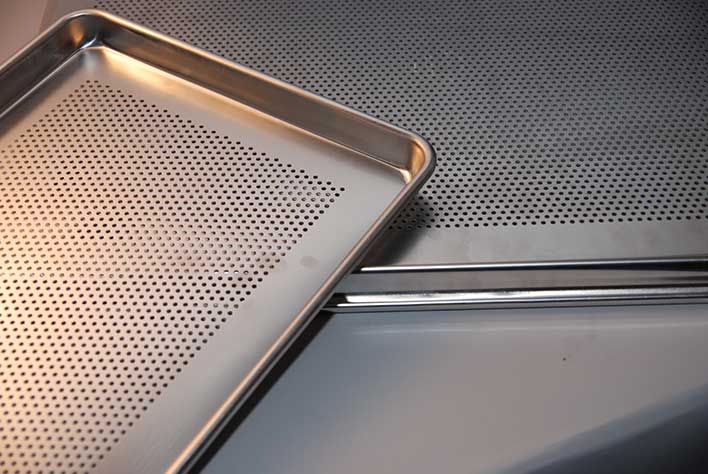 High Quality and Economical
We have the equipment and the expertise to provide manufacturers with materials for perforated sheet trays and other products that are economical and easy to use. We have the tools and equipment to punch hundreds of holes per second — saving you time and money on the project. With our time-saving metal sander, we also have the finishing capabilities to deburr, degrease and polish each sheet, so they arrive ready for you to form. We can supply straight perforated sheets or sheets with interior or exterior margins.
Service that Gets the Job Done Right
Accurate Perforating has more 75 years of experience perforating metal from mass produced sheets to custom architectural projects and more. Any size order receives the superior care and attention that have built our reputation as a company that gets the job done "just right" when it comes to perforated sheet metal for baking.