Perforated Metal Filtration
Perforated Metal Filters Can Handle the Pressure
Filtration Applications for Perforated Metal
Regardless of your filtering requirement, our perforated metal supports filtration media under intense pressure. Accurate Perforating supplies filter housings, screens, perforated baskets or cartridges, perforated metal plates, and more. Read on to learn more about the filtration applications for perforated metal.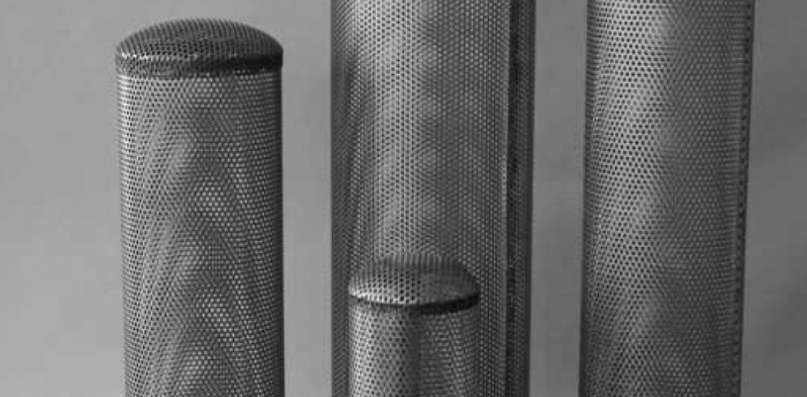 Air — Keeping It Clean
When it comes to air, cleaner is safer. Perforated metal frameworks hold filtration media for:
Cartridge and HEPA filters (with a reusable perforated metal core)   
Residential exhaust systems to draw smoke and air contaminants out
Industrial exhaust systems with electrostatic precipitators (air cleaners)
Debris — Keeping It Out
Perforated metal filtration keeps debris out of radiators, belts, and muffler components for the agricultural and automotive industries. Our perforated metal is strong enough to bear a high-weight load and designed to protect your machinery from intruders.
Liquids — Just Passing Through
Nonwoven filtration media is held in place by a strong perforated metal frame, able to handle high pressure behind it. Accurate Perforating supplies the following industries:
Food and Beverage

Specialty filter housing is used in this industry. Accurate supplies perforated metal media for bag filters, perforated metal holders for filter cartridges, and screens for vibratory separators.

Wastewater

We produce stainless steel sludge filters.

De-watering or Dredging

We fabricate perforated metal for filtrating to capture undissolved matter, as well as screens for vibratory separators. These are used in pulp and paper industries, utilities, barge transportation, laundry, textile industries and more.

Mining and aggregate

We supply screens and perforated metal plates for:

Fracking: In-field fracking removes oil and water. Accurate supplies perforated metal for filtration that lines the roll-off dumpsters, as well as the perforated metal pipes that handle fracking fluids at high pressures.
Drilling: Shaker screens are made with perforated metal frames supporting a wire cloth laminate to recover the expensive "mud" lubricant used in drilling.
Accurate Perforating has the experience, tools, and team to customize any type of metal filtration components for your needs. Our products perform well under the pressure of filtration and our customer service and design team hold up under pressure, too. Get in touch with us today to learn what makes us the ideal perforated metal filtration suppliers.