Graphic Perf
Creating a Lasting Impression with Perforated Metal
Graphic Perf: You Imagine It, We'll Create It Together
Accurate Perforating can merge perforating, fabricating, perforated imaging, laser-cut imaging, punching, image graphic and backlighting with LED to create custom signage for your brand. Creating graphic signs using perforated metal is both a science and an art, and we have the expertise and experience to do it right.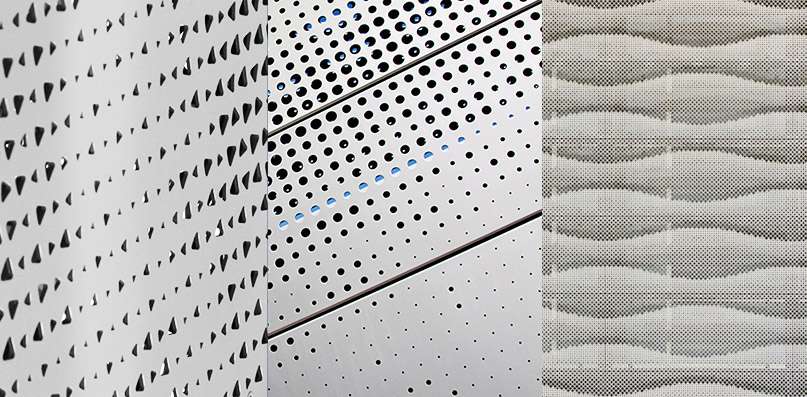 Graphic Signage Applications
Accurate has been offering perforated imaging on a small scale for decades for the following applications:
Speaker manufacture
Interior design
Sports collectibles
Building Facade
Canopy
Signage
Point-of-purchase (POP) displays
We have now taken our expertise to new heights by offering Graphic Perf to the architectural market. It's the perfect way to provoke an emotion, beautify an area, build a strong brand and make a lasting impression.

Graphic Perf Procedure
Sound complicated? It's not! Here are eight easy steps that get you from image to your PicturePerf panels:
Select a graphic. We can render a graphic from practically any visual representation, including an artwork, graphic logo and more.
Discuss Your Needs. Once we understand what you require, we do our best to bring your project to life.
Process the graphic. We combine art and computer science to coax your dream into reality.
Discuss the Results. We convene as many collaborative meetings as necessary to ensure you are completely satisfied with the art piece.
Refine the graphic. After each meeting, our project managers tweak the image based on your feedback.
Load the Program. When we all agree that your graphic is ready to go, we load the program into our system — and the magic begins!
Fabricate the Panels. In addition to perforating your image into the metal panels, we also handle all the other fabrication processes required.
Package and Deliver Your Panels. Special packaging ensures that your panels arrive in perfect condition, while detailed labeling allows for quick and easy installation.
Ready to get started? Accurate Perforating is as excited as you are to begin your impactful project!