Customized Perforated Lighting Components
Get the Perfect Exposure with Perforated Metal
Lighting Applications for Perforated Metal
Light bulbs, light fixtures, wiring, glaring light. No one wants to see them naked. Perforated metal is the ideal material for light covers, diffusers, and reflectors. Why?
It directs the amount of light flowing from the fixture.
It directs the path of the light — up, down, diagonal, lateral, or any trajectory.
It allows for ventilation to the unit.
Hole sizing, space shape, edge pattern, and orientation are customized.
Distinctive finishes are available — paint, powder coat, and anodizing to match your color scheme.
It hides the naked lighting elements with a product that's easy on the eye.
Accurate Perforating supplies the industry with fully assembled components or perforated metal sheets for lighting, ready for forming and assembly. Our customized perforated lighting components are aesthetically pleasing and designed for optimal function.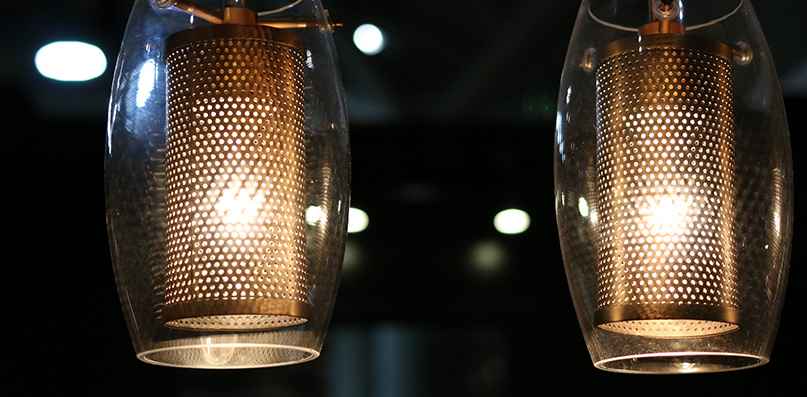 Benefits of Our Lighting Components
Accurate can develop customized perforated lighting fixtures for you, or develop a line of components for production — at cost-effective rates.
Accurate has been supplying light covers, diffusers, and housings to major suppliers in the lighting industry for over 15 years.
Our engineers have extensive knowledge in the lighting industry — experience you can trust.
Our tools and machinery can produce precision customized perforated metal lighting components for your needs. We've even developed a new tool for the job.
Accurate delivers aesthetics combined with optimal function.
With Accurate, customer satisfaction is always in the spotlight.
Always Perfectly Functional
Perforated metal lighting fixtures have to let the light shine — the right amount in the right place. A pretty cover that keeps you in the dark is a problem, but Accurate Perforating's lighting covers and diffusers are always perfectly functional.
One lighting company was initially working with a different manufacturer. However, their product, once painted, only allowed 40 percent lumens, so the company turned to us. Accurate Perforating designed a different hole pattern to allow more light to pass through the perforated cover. Perfectly functional lighting, with a pretty cover.