PERFORATED METAL SUNSHADES & SUNSCREENS
Aesthetically Pleasing and Energy-Efficient
Perforated Metal Sunshades and Sunscreens
Perforated metal sunscreens and sunshades can be integral to a building — enhancing energy efficiency and aesthetics. Accurate Perforating's perforated metal sunscreens and sunshades offer these benefits to a structure:
Reduction of energy costs
Mitigation of heat and glare from the sun
A means for natural light to pass through to illuminate the interior of the building
Abatement of noise and wind effects
Privacy enhancement
Improvement to the aesthetic appearance of the building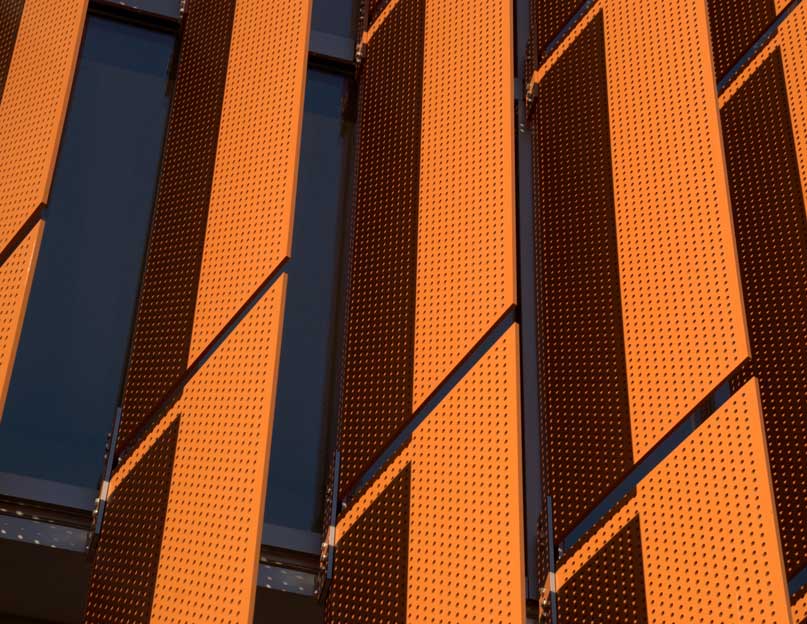 Perforated metal is the ideal material for architectural sunscreens and shades:
Greater longevity than any other building material
It can be formed into nearly any shape
Nearly maintenance-free
Available in a variety of colors and finishes
Your choice of perforation pattern and hole size allows you to control the privacy and the amount of light coming into the interior of the building. Because of Accurate's extensive tool collection and experience, we can provide any pattern or hole size you need, even if you don't see it on our website.
Expertise and Green Design
In addition to more than 75 years in fabrication, Accurate Perforating has expertise in meeting any sustainability requirements, using green design concepts so that the perforated metal sunshades and screens can meet LEED and SMaRT© sustainability standards. Two types of sunscreens are available:
Vertical or V-Series Standard Sunshades

This full line of pre-engineered vertical perforated sunshade systems adds beauty and functionality to any facility. 

Custom Perforated Sunscreens

Anything you imagine can be designed and built to complement the architecture of your building.
Regardless of which type you choose, we guarantee easy assembly and installation by carefully labeling each part before shipment.
A Gallery of Sunshades
Are you looking for inspiration for your next sunscreen project? Accurate has you covered over on our gallery page. We've curated some of the best images and applications our customers have created - including sunscreens. By looking at what others have done on previous projects, we are confident that you will dream up the next perforated metal application - and Accurate will be with you every step of the way. Some of the projects we've worked on include: