Helping You Meet Your Customers' Needs
We know that service centers and distributors are looking for the right selection, price, quality, and delivery to satisfy their customers' needs. We work with you to ensure that you always have a reliable supply of quality perforated metal products at a price that maximizes your margins. We work hard to make sure you have exactly the perforated metals you need — no more ordering oversized sheets and then shearing them to size at your facility. Plus, we offer a wide range of services — from toll processing and stocking to custom packaging and precision material flatness — to provide you with the ideal solution.
When you choose Accurate Perforating, you will be working with one of the most versatile players in perforated metal distribution. We can handle virtually any type of material, including steel, brass, aluminum, and composites. Distributors will also find the products they need. No matter what the project calls for, we can provide perforated sheets and coils for distributors that fit specifications.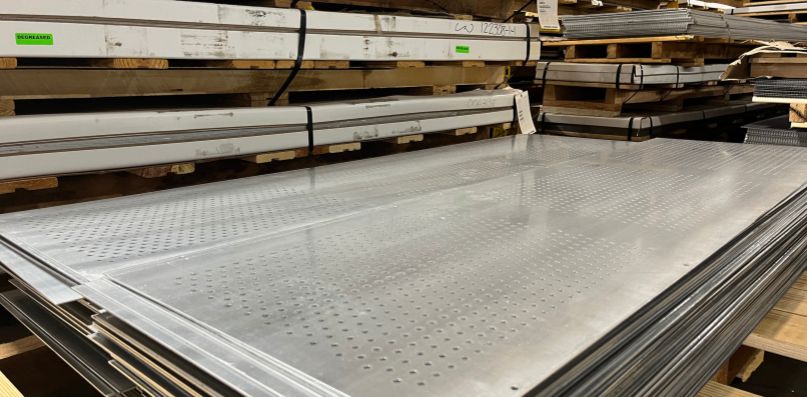 Benefits of Working with Accurate Perforating 
Standard perforated sheets and coils
Custom perforated sheets and coils beyond standard 4' x 10' sheets for one-off customer requests and unique projects
Metal fabrication including forming, welding, laser cutting, and punching, so your customers can get everything they need from you
Multiple levelers in-house to exceed your material flatness requirements
Finishing services, including degreasing, galvanizing, powder coating, PVDF, and anodizing to increase your sales opportunities
Blanket orders to reduce your prices and lead times — we can manufacture three to six months' worth of product at once, stock it in our warehouse, then ship upon request
Stocking and fulfillment services to lower your carrying costs and lead times
Short lead times and flexible delivery options, including packaging, distribution, warehousing, and just-in-time delivery services
Numerous additional services to ensure your satisfaction with our products, prices, and lead times
The market leverage of a large supplier keeps prices low and ensures availability
Putting Our Experience to Work for You
With more than 75 years of experience, manufacturing expertise, extensive service offerings, thousands of patterns, hundreds of tools, and the ability to make tools in-house, Accurate Perforating is the only perforated metal source you will ever need. We even offer custom fabricating so you can meet the needs of all your customers, even on the rare occasion when they require something beyond the standard product.
To learn more about everything we can do, browse our extensive listings of products and services. When you are ready to get started, contact us to receive a quote.