BACKLIT PANEL SERVICES
Illuminating Your Design Adds Beauty
Enhance Your Surroundings with Backlit Perforated Panels
Backlighting makes your environment more brilliant. Backlighting highlights the structure of surfaces and makes the material stand out to produce a more dramatic effect. Additionally, backlighting can have a very minimal profile, allowing it to conform to the area, and generating consistent radiance.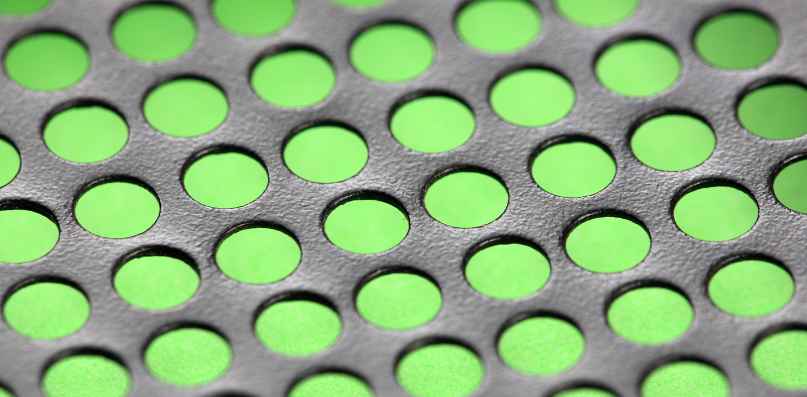 Highlight the Structure
Illuminating perforated components from behind creates shadows to clarify the 3-dimensional layers with gradual change. A dramatic impact can be created by adding backlighting between perforated, punched or laser-cut panels to produce a distinctive appearance.
Make Material Stand Out
Backlighting transparent and open materials coaxes the texture to stand out in spectacular ways. For example, in the Materials Pavilions graphic panel we produced for NeoCon 2017 with GL LED, the light shines through the perforations creating an intense contrast, causing the layout of the design to pop!
Backlight Applications
Branding components
Corporate artwork
Display panels/walls
Fencing
Interior/exterior facades
Logos
Railing systems
Restaurant seating dividers/partitions
Room/building dividers
Screening systems
Signage
Sunscreens
Desired Impression
We can utilize perforating, punching and laser cutting to create the desired effect for your backlit metal panels, including graphics, logos, images, pictures, custom designs and custom patterns.
Illuminating Components
Accurate Perforating, with the collaboration of our lighting partner, GL LED, uses many types of lighting components to make your signage stand out including:
LED strips (white, temperature controlled, colored and SMART LED)
LED or fluorescent panels
Diffusers (clear and opaque covers on flush and angled channels)
Wall washers (white and colored)
Backlighting Panels: Things to Consider
Here is a list of the major aspects of backlighting to consider when designing your project. As capable backlit panel fabricators, Accurate Perforating is available to help you develop the best solution for your application.
Finish of display (powder coated, anodized, PVDF)
Letters or graphics embedded into or mounted over the display
Type of lights (LED, fluorescent, or HID)
Light color and temperature
The brightness of the lighting
Size of the display, including depth
Complementary components (plastic graphics, sign plastic, glass elements)
Movement, sound, or interaction of the display
Freestanding or mounted
We have the expertise to create unique and impactful backlit signage. As a top backlit panel manufacturer, Accurate Perforating can incorporate our perforated graphic signage with a backlighting effect to create a stunning impression for any space. Accurate collaborates with the best supplier partners in the industry to provide you with a high-quality, long-lasting, dramatic backlit signage display that will astound you.