Medical / Scientific
Meeting High Standards for a High-Standard Industry
Medical/Scientific Applications
The medical and scientific industry has high standards — it's an ethical requirement. Perforated and fabricated metal components are used in medical and scientific equipment, and these must come from a source with high standards as well. Accurate Perforating supplies precisely fabricated and perforated metal components to medical equipment suppliers for laboratories, hospitals, and medical offices.
Autoclavable sterilizer trays, cadaver trays, test chambers, ventilation hoods, and test tube holders with perforated metal components are among the day-to-day equipment used by the medical and scientific industry. Components have to be precisely made, to high standards, and with tight tolerances. Durable metal components with optimal perforation patterns and precisely fabricated external and internal margins result in equipment that is strong enough to stand up to the water pressure, heat, and chemicals that are part of the sterilization process, while test tube holders and trays must grasp the test tubes and tissue securely as needed.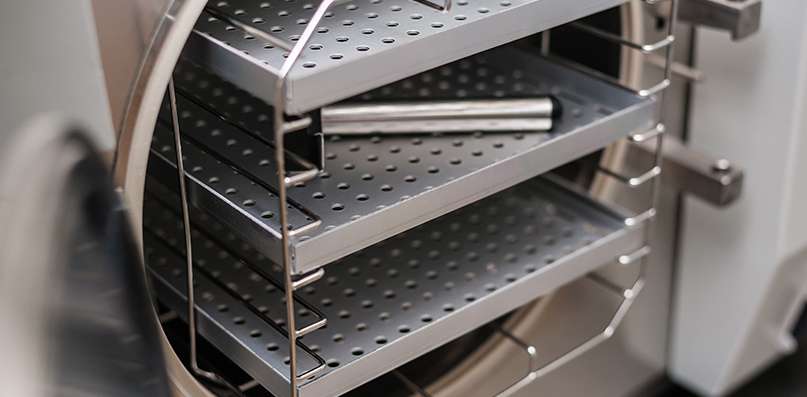 Benefits of Working with Accurate Perforating
Quality process management
Consistency and reduced variability in products
Reliable processes and procedures
Better pricing
Better communication
Faster turnaround on orders
Precision, High Quality, Consistency
With our capabilities, we can do more for you than many metal perforators. Yes, we can perforate (in just about any hole pattern and size needed). We can fabricate. We can weld stainless steel components by hand (utilizing a welding tech) or with a robotic welder for the most precise results. We can finish the component and even remove any nicks and scratches before the final finish is applied. This yields a smooth surface so that delicate medical equipment or tissue won't be damaged by rough edges.
Accurate Perforating has the project management experience you need for efficient production and delivery, and we are now ISO certified — a guarantee of the highest quality.