Perforated Metal Screens
From Commonplace Functions to Spectacular Designs
Perforated Metal Screening Functions
Perforated metal screening performs different functions in a building, ranging from the commonplace to the spectacular — and often doing both. No other medium is as diverse in all that it can accomplish as perforated screening material.
Commonplace Functions
Perforated metal screening is the optimal material for many commonplace functions for a building — those that might not be noticed unless the screen wasn't there:
Hiding an unsightly area
Separating spaces
Providing relief from heat and glare of the sun
Permitting light and air flow
Giving privacy to those inside
Reducing the impact of wind and storms
Adding structural integrity
Accurate Perforating has more than 75 years of experience perforating, fabricating, welding, forming and finishing metal. We have the experience, equipment and tools to complete the job for your perforated metal screen project — on time and to your specifications.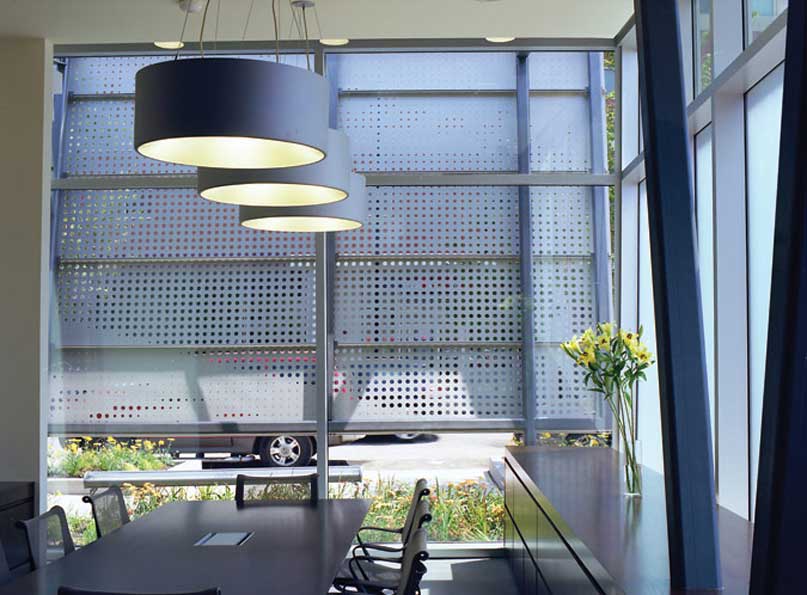 Beyond Commonplace
Perforated metal screening also performs aesthetic functions for buildings — transforming them from mundane to spectacular and stunning. Laser technology, endless custom perforation patterns and options, and custom finishes make it possible to offer creative options to complement any architectural project.
Here are a few examples of perforated metal screen and perforated mesh screen projects we've done in the past — and what we can do for you in the future:
South Kitsap Medical Campus

Perforated metal screen walls unified the architectural elements in this two-story building. The perforated metal screen was visually striking and was also designed to cut reduce the impact of the wind and provide structural strength to the roof.

The Illinois State Emergency Operations Center

This project involved 18,000 square feet of perforated copper screening. The perforated screen panels each fit seamlessly to the frame and overlapped the preceding section. The visually appealing perforated metal screen panels also served three other functions:

Diminish heat/sun glare yet still allow light
Provide security (so people cannot see into the building)
Serve as a protection against tornadoes

Philadelphia University DEC Building

Perforated metal screen walls enveloped a new building on campus that was designed to represent the creative, cross-disciplinary, collaborative learning taking place there. Collaboration was also necessary between Accurate, the architects, the contractors and the school.
Why Accurate Perforating?
There are many reasons to choose Accurate Perforating for your perforated screen project.
We are ISO 9001:2015 certified.
We listen and communicate with clients and other teams involved.
We ensure that your perforated screen panels will arrive safely and carefully labeled for ease of assembly.
We meet deadlines and are 100% committed to a successful installation, from start to finish.