Add Indoor and Outdoor Beauty to Perforated Metal Elements
Lightweight, durable and decorative, perforated aluminum sheet metal panels can provide the desired look and performance for a variety of purposes. Accurate Perforating has the equipment and the capabilities to punch aluminum sheets with holes in a wide range of sizes, shapes, and patterns. Whether you need to create long-lasting sunshades for an outdoor pavilion or sound-dampening acoustical tiles for a concert venue — or simply want to give the exterior of your building a unique appearance — we can make it happen. These panels offer one-of-a-kind aesthetics as well as superior qualities when compared to other types of building materials. No matter the application, Accurate Perforating can be the one-stop source for your perforated aluminum needs.
Perforated Aluminum Basics
Perforated aluminum sheet metal complements any structure and adds a visually stunning element to interiors and exteriors alike. An aluminum mesh sheet is an excellent option for designs of all types. Perforated aluminum sheet metal is a popular option, both for functional and aesthetic reasons, and the uses for perforated aluminum panels are virtually unlimited.
One of the most important qualities of these materials is that they resist corrosion caused by exposure to the elements. This means these panels can be left outside in the rain, snow, and wind with little worry about rust. In fact, aluminum becomes stronger when the temperature drops below freezing. It even withstands prolonged contact with some chemicals commonly found in outdoor environments, making it a great choice for architectural applications that require durability without sacrificing aesthetics or structural integrity. Our expertise with these materials makes it possible for us to deliver the highest-quality components for your next project. Click the image below to learn more about perforated aluminum sheets.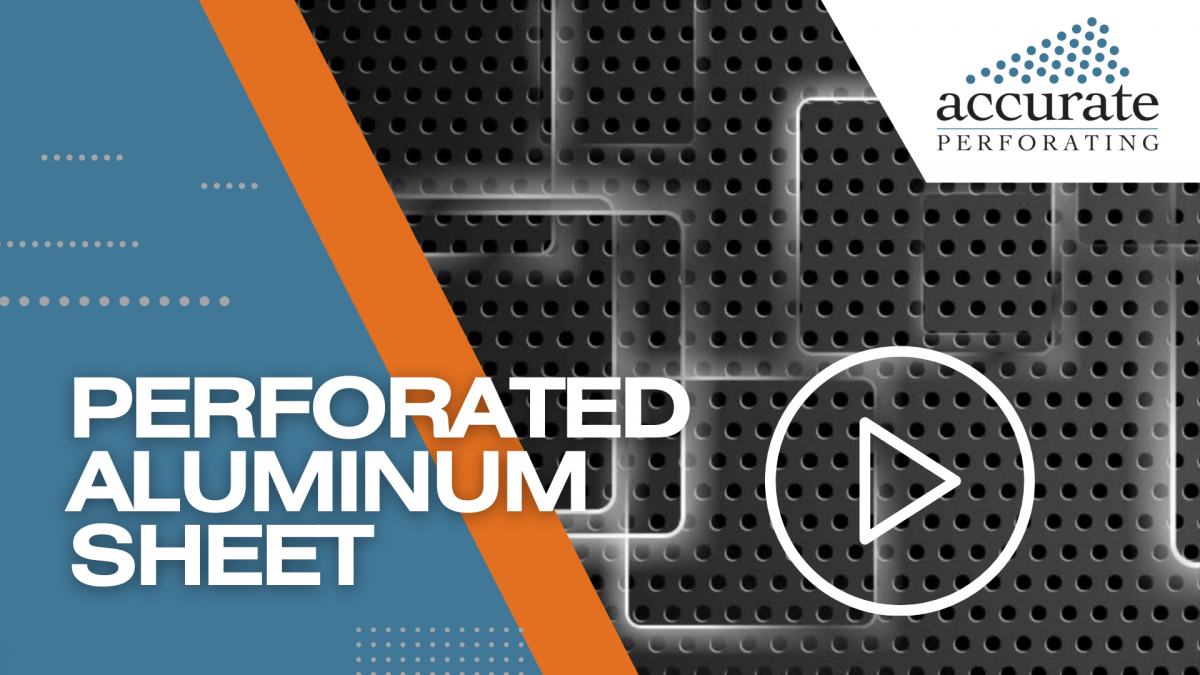 Characteristics of Aluminum Sheet With Holes
Very versatile
Naturally lightweight and easy to work with
Highly resistant to corrosion
Cost-efficient material
Durable and long-lasting
Perforated Aluminum Sheet Metal Applications
Ideal for indoor and outdoor structures
Decorative surfaces
Architectural elements
Noise-resistant walls and ceilings
Acoustical panels for sound control
Sunshades to control light
Privacy applications
Air diffusers for HVAC equipment
Options for Perforated Aluminum Panels
From perforated aluminum panels to perforated aluminum plates to aluminum sheet with holes, you have plenty of patterns and options when it comes to your project. We offer perforated aluminum coils, sheets, blanks, and even fabricated and finished components ready to be installed. Our aluminum mesh sheet is available in thicknesses as light as 24 gauge and as heavy as 1/2" in widths up to 72". We offer a wide variety of finishes that enhance the appearance and increase the longevity of your feature.
Our options vary by style and pattern. Accurate Perforating can craft perforated aluminum sheet metal so that the holes are perfectly customized to your project. Using special software and perforating techniques, we can create moving and flowing images in the perforated aluminum panels for compelling building facades. We offer standard straight-line designs as well as staggered to give the unique look, feel and functionality you require. We can cut varying hole sizes for the perfect perforated aluminum sheet.